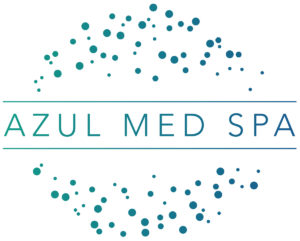 One of the most exciting kinds of projects you can get as a full-service branding and marketing company is helping a company start from scratch. And purpledoor marketing has been fortunate enough to get that opportunity not once, but twice.
When registered nurse and former spa owner Ingrid got in touch, she mentioned that she was in the process of launching a brand-new med spa and needed help with everything: A name, an identity, a site. You name it, she needed it.
After having a kick-off call, wherein we talked about Ingrid's goals and preferred aesthetic, we drafted our creative brief, a one-page document to act as our creative roadmap. Using seven simple questions to get our thoughts on track, we were able to hone in on the messaging, creative messaging and overall brand tone.
The first result? A name: Azul Med Spa. Evoking the peacefulness of the color blue and the elegance of the Spanish iteration (plus the nod to Ingrid's Spanish heritage), we then designed a logo to set the brand's tone. Utilizing a gradient color effect, this allowed the logo to convey a slight sense of movement.
Now with the logo and brand guidelines set (colors, fonts, logo iterations), we'll begin work on all the other necessary items, from letterhead and business cards to websites and social materials.
Check back here to view samples of the finished work. And come back next month when I share an update on purpledoor's second opportunity to rebrand a company.